20th International Conference on Building Materials ibausil in Weimar
The main topics of the conference are grouped according to materials and will deal with problems of both basic research and applied science, ranging from new buildings and revitalisation to the preservation of monuments. Methodologically-oriented contributions (production engineering, ecology, ensuring of quality, test methods and test processings, assessments of actual building state, effects of admixtures, additives and aggregates) should therefore be classified according to application.
1 Inorganic binders
10 Cement production process
11 Type of cements and cement properties
12 Cement hydration
13 Effect of admixtures
14 Binders and materials on the base of calcium sulphate
15 Special binders
2 Concretes and Durability of concrete
20 Concrete and aggregates
21 High performance concrete
22 Self-compacting concrete and rheology
23 Special concretes (Fibre c., Carbon c., Shotcrete c. and Highway c.)
24 Additive manufacturing / 3D-Printing
25 Polymer cement mortars and polymer cement concrete
26 Alkali-silica reaction
27 Sulphate attack and formation of thaumasite and late ettringite
28 Concrete reinforcement influence of chlorides, carbonation
29 Freeze-thaw and freeze-deicing-salt resistance
3 Walling materials / Construction maintenance / Recycling
30 Building protection and maintenance
31 Ashlar / natural stone masonry
32 Building ceramics
33 Calcium-silicate brick and C-S-H-insulating materials
34 Light -weight concrete and autoclaved aerated concrete
35 Mortar, plaster mortar and floor screed materials
36 Adhesives / binding materials and filling compounds
37 Recycling of building materials
Conference languages
The conference languages are German and English. There will be a simultaneous interpreting in German-English as well as English-German in the main auditorium. In the other lecture halls translation will not be provided.
Conference fee
The conference fee will probably amount to 650 €. This fee will be reduced for presenters (but not for co-authors) by about 15 %.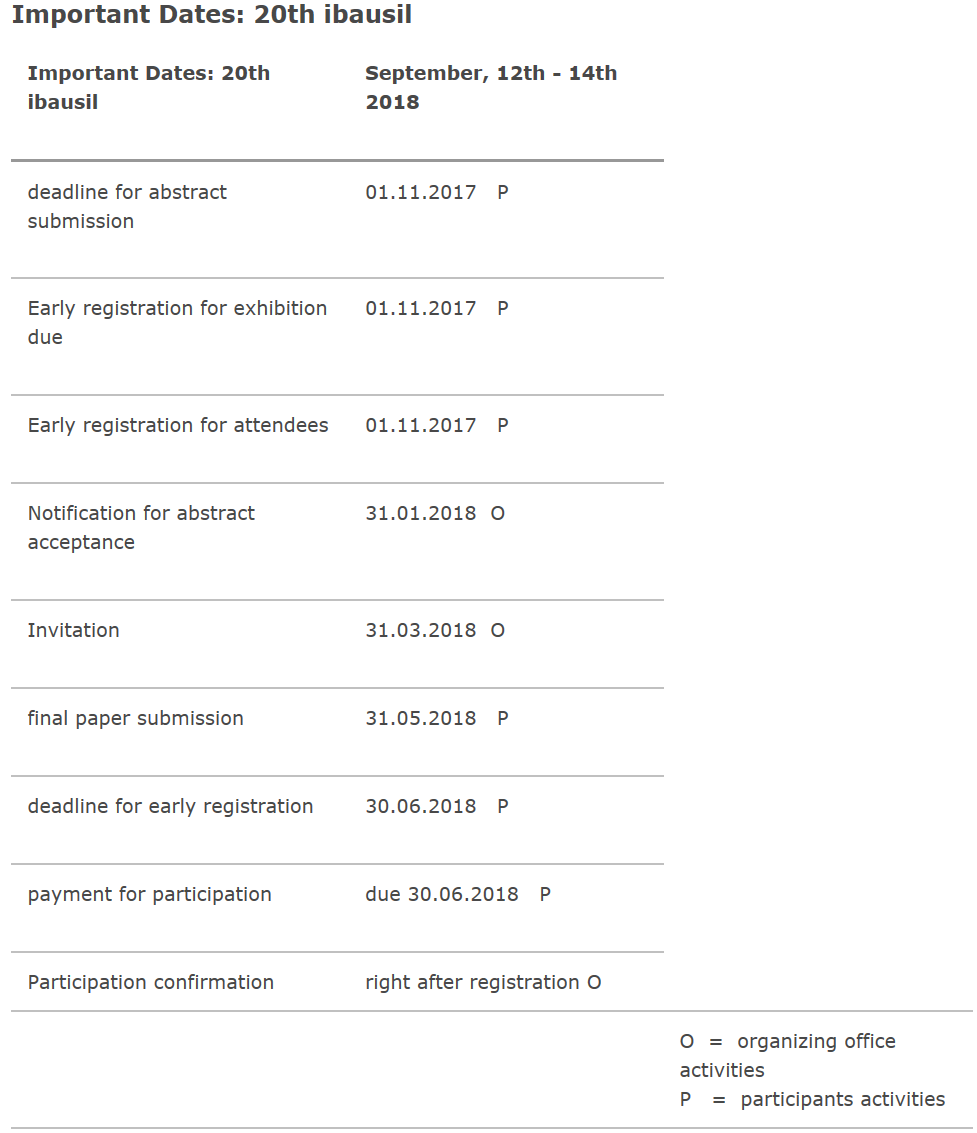 Venue of the conference
congress centrum neue weimarhalle
How to get to Weimar
Accommodation
We will supply a hotel list here soon.
By establishing the International Conference on Building Materials "ibausil" in 1964 an international forum for the exchange of scientific views was created. One aim of the conference has always been to bring researchers from universities and industrial enterprises, from the east and the west, together in the geographical centre of Europe.
As in the past, the main emphasis is put on problems of the development and application of building materials. An accompanying exhibition of products and procedures will also take place. In addition, the organizers intend to offer special excursions on the last day of the conference.
The variety of sights in and around Weimar and the impressive cultural heritage and contemporary works of art will make your stay in the "European city of culture 1999" pleasant and worthwhile.